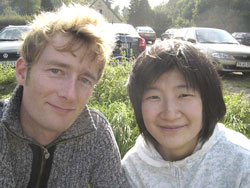 Ken Winther & Akiko Kuwahata
Our Precious Universe


"We would like people to take the time to see the stars and feel the universe with a drink of whiskey and chocolate in the company of good friends"
Materials
Bog oak, bubinga, zircons and glass. Through The Old City in Aarhus, The Wood Museum in Odense had been given effects from a former master of the wood carving guild by the name of Knud Høyvang. Among the objects was a small block of bog oak, which turned out to be of a very high quality, with fine black, silver-grey shades, and very appropriate for this project. We were curious about how old bog oak really is, and contacted the National Museum Natural Science Examinations. Using dendochronology they could precisely date the wood to 1181 BC, which gave a new perspective to the wood. The oak has been in the ground for 3000 years and it is still wood, and with that story in mind we have treated it with the utmost care and respect.
Techniques
The ring has been steam-bent and moulded, because the round drawer front has to hold the curved shape. The text and the lines are laser cut.
Challenges
We had a rounded shape – was it possible with 3000 year old wood? Could it be steam bent? It was also a challenge to make dovetails (drawer assemblies) with a rounded drawer front in porous bog oak and hard bubinga.
Why have you made it?
Our Precious is the universe. How do you capture the universe in a box? We use the starry sky to symbolize it. We would like people to take the time to see the stars and feel the universe with a drink of whiskey and chocolate in the company of good friends.

Time spent
300 hours. It is a guess as we purposely have not counted them; the number is of no interest to us. Big Bang lasted less than a second; we have used considerably more time to create our small universe. In the Univers time is not a factor.

-------------------------------------------------------------
Our Precious Universe


"Med lidt whisky og chokolade i gode venners selskab vil vi gerne, at man tager sig tid til at se stjernerne og mærke universet"
Materialer
Moseeg, bubinga, zirconer og glas. Træmuseet i Odense havde gennem Den gamle by i Århus fået effekter fra billedskærer Knud Høyvangs billedskærerværksted. Knud Høyvang var Oldermand for billedskærerlauget i Danmark. Blandt effekterne var en lille blok moseeg. Denne moseeg viste sig at være af en meget høj kvalitet med fine sorte, sølvgrå farvenuancer. Det var meget velegnet til dette projekt. Vi blev nysgerrige på hvor gammel dette moseeg egentlig var, og kontaktede Nationalmuseets Naturvidenskabelige Undersøgelser. De kunne præcist datere det ved dendrokronologi til at være fra år 1181 f. kr.
Det gav et nyt perspektiv på træet, vi fik mere respekt for det, dette egetræ har ligget 3000 år i jorden og er stadigvæk træ. Et stykke træ med den historie behandler man med største omhu.

Teknikker
Ringen er dampbøjet og formspændt, fordi det runde skuffeforstykke skal holde den buede form.
Teksten og linjerne er laserskåret.
Udfordringer
Vi havde en rund form - kunne det lade sig gøre med 3000 år gammelt træ? Kunne det dampbøjes? Det var også en udfordring at lave sinker (skuffesamlinger) i et buet skuffeforstykke i porøst moseeg og hård bubinga.
Hvorfor har du lavet den?
Our Precious er universet. Hvordan indfanger man universet i en æske? Vi har symboliseret det med stjernehimlen. Med lidt whisky og chokolade i gode venners selskab vil vi gerne, at man tager sig tid til at se stjernerne og mærke universet.
Tidsforbrug
300 timer. Det er et gæt, da vi med vilje ikke har talt dem, tallet er ikke interessant for os. Big Bang varede mindre end 1 sekund, vi har brugt væsentligt mere på at skabe vores lille univers. I universet et tid ikke en faktor.